Springfield ® Dovetail ProGlo ™ - Tritium Night Sight w/Lumi GREEN Outline, Beveled Flat Base
Springfield® Armory ProGlo™ style Ramped Front Night Sight. These highly visible front sights incorporate a self-illuminating Green Tritium Dot nestled within a bright Lumi Green outline. The perfect combination that glows brightly in both low light and well-lit conditions. This is accomplished with the optimal color contrast between the front sight in ProGlo™ Lumi Green color, and a rear tritium sight with Arctic White outlines, or your basic black serrated target rear sight. Based on studies and reviews, the extreme contrast helps quickly draw the shooter's eye to the front post, which allows quicker sight alignment and target acquisition.
This Front Night Sight comes equipped with a 0.118" wide blade and a beveled flat base. Compatible with Springfield type front sight dovetail cut (0.340" x 60 Degree x 0.075")
Used on Springfield (1911's, EMP's and some Range Officers), some model Colts and Dan Wesson's that were made prior to January 2015 (the first two digits in the serial number are the year of manufacture). PLEASE MEASURE YOUR FRONT DOVETAIL BEFORE ORDERING. This front does not come standard in any sight set.
GUNSMITH INSTALLATION RECOMMENDED
TECHNICAL INFORMATION:
Material: 4140 Chrome Moly Steel
Blade Type: Smooth Green Tritium Dot (0.076" Dia)
Outline Style/Color: ProGlo™ Lumi Green
Blade Width: 0.118"
Sight Base: Beveled Flat Base
Sight Dovetail: Springfield Type
Dovetail Dimensions: 0.340" (Width) x 60° (Angle) x 0.075" (Depth)
---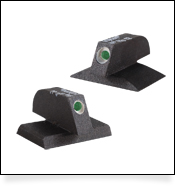 Standard Dovetail - Flat Base vs Contoured Base
A front sight with dovetail dimensions of 0.330" (Width) x 65° (Angle) x 0.075" (Depth) has become known as a "standard" front sight in the industry. While these were first seen on 1911 slides with the Novak LoMount rear sight, some OEM manufactures have adopted this same size for their 1911 platform.
However, other 1911 platforms such as Springfield®, Colts, and Dan Wesson have a propitiatory dovetail. We offer two basic configurations of front sight bases. One is the "Flat Base" style and the other is the "Contoured Base". The dovetail dimensions are both the same, so the base selection is a personal preference depending on the profile on the top of your 1911 slide. Please check your existing front sight dovetail dimensions, before purchasing the Springfield front dovetail sight.
---
Authentic Kensight ® Sights - The Professional's Choice
This is an authentic Kensight ® sight, and not to be confused with other brands. When it comes to durability, and features the Kensight® sights far exceed our competitors. Our sights are Wire-EDM machined from a single billet of 4140 chrome-moly steel. The result is a precision sight built with better materials and the Wire-EDM construction ensures the tightest tolerances possible. This translates to ultra-smooth adjustments, audible clicks for both windage and elevation, and consistent dovetail dimensions in which the "industry standard" CNC construction cannot compete. Backed by our Limited Lifetime Warranty, Kensight 1911 sights are premium quality and the first choice for factory-fit OEM manufactures, competition shooters and professional's worldwide.
---